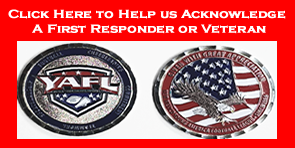 First we would like to thank all Veterans and First Responders for their service and dedication. 

We would like to honor these individuals during the coin toss at our New Mexico Young America Football League Superbowl games. We are seeking nominations of a Military Veteran who served our country to keep us safe or one of our dedicated local First Responders who are always there when our community needs them most.

The individuals who are chosen will be recognized at the NMYAFL Superbowl Games on October 31st. The NMYAFL Superbowls will be streamed live on www.Proviewnetworks.com as well as shown on Comcast Cable channel 26.

Please enter below Information regarding the special person you would like to be recognized at the NMYAFL Superbowls. We sincerely would like to thank you for taking the time to nominate the special person who is serving or has served our community and our country.